Chia seeds are nutritious and regarded as a superfood. They are quite nutritious and readily available in supermarkets. Can these tiny nutritious seeds, however, be taken while pregnant? Pregnancy is a sensitive time, and a woman should naturally eat as many healthful things as she can while pregnant. If you're having a baby, you'll probably want to know if you can eat chia seeds during pregnancy, especially if you enjoy them. So read on Benefits Of Chia Seeds In Pregnancy before adding a handful of chia seeds to a healthy dish.
Are Chia Seeds Safe During Pregnancy?
Chia seeds are safe to eat during pregnancy and can even help you have a healthier birth. Chia seeds contain about 20 grammes of protein per 100 grammes. 3 grammes of protein can be obtained from 1 tablespoon of chia seeds. Chia seeds are also high in iron and calcium, which are both necessary for a healthy pregnancy.
Benefits of Eating Chia Seeds During Pregnancy
Chia seeds are unquestionably nutritious and make an excellent complement to our everyday diet. But what advantages do they provide to expectant mothers? Check it out! We're confident that after reading about the benefits of chia seeds (black seeds), you'll incorporate them into your pregnant diet more frequently.
Contact Marham's Gynecologist in Islamabad today for more information about healthy pregnancy.
1. It can help in the Prevention of Constipation
The hormonal changes that occur during pregnancy can cause havoc with your digestive system, making pregnancy a difficult time for you. Constipation will become a daily battle as your pregnancy advances. Fibre-rich foods like chia seeds, on the other hand, can aid with this problem and keep your digestive system healthy and happy. Chia seeds can help with regular bowel movements, which can help reduce constipation and hemorrhoid's, both of which are prevalent during pregnancy.
2. It can Help in the Prevention of Anemia
Iron-deficiency Another common pregnancy-related issue is anemia. Your body will require enough iron to produce red blood cells while you are pregnant. Red blood cells transport oxygen throughout your body and to your baby. As a result, you must increase your iron intake. Chia seeds are a good source of iron and should be included in your diet from the beginning of your pregnancy.
3. It Aids in the Development of Strong Bones
For obvious reasons, your doctor must have advised you to include calcium-rich foods in your diet. Calcium aids in the development and strengthening of your child's bones and teeth. You may be considering drinking multiple glasses of milk to meet your calcium requirements, but this is not necessary. Chia seeds can be eaten raw or cooked into a variety of meals. If you enjoy drinking milk, you can add chia seeds to it and consume it. Calcium is important for your baby's skeletal growth as well as the formation of his teeth buds. Calcium is found in fruits, vegetables, dairy products, and, of course, chia seeds.
Click here to book an appointment with the Gynecologists in Karachi through Marham to get the best experience of your pregnancy. 
4. It can Help keep Blood Sugar Levels in check
Hormonal changes during pregnancy can cause an accumulation of glucose in your blood, which needs to be handled quickly or gestational diabetes can develop. High blood sugar levels have an impact on both you and your baby's health (it increases the chances of birth defects). Furthermore, high blood sugar during the first trimester of pregnancy can increase your chances of miscarriage. You can manage your blood sugar levels by using chia seeds in your diet. Chia seeds' fiber can help to reduce the absorption of sugar in your blood and keep it steady, reducing your risk of Type 2 diabetes and heart disease.
Also Read 8 Phool Makhana Benefits In Pregnancy- Must Read To Know
5. It can Aid in the Development of the Fetus
Chia seeds are a good source of protein, which is crucial during pregnancy since it helps the foetus' organs (including the brain) and cells develop properly. As a result, you cannot simply compromise on your protein needs. Protein can also help you stay satiated while you're pregnant. You will be hungry all the time while pregnant, but it does not imply you will overeat (it is unhealthy). Tofu, almonds, beef, and chia seeds are all good sources of protein. These are some of the advantages of having chia seeds in your diet. They don't stop there, though. Chia seeds can supply you with the energy you need for the day, as well as omega-3 fatty acids.
Side Effects of Eating Chia Seeds While Pregnant
Despite the fact that chia seeds are extremely healthy, there are a few potential negative effects to be aware of. You should follow the rule of' moderation is the key.' Here are some of the negative effects of eating chia seeds during pregnancy.
Chia seeds in large quantities might cause stomach issues. Constipation, bloating, firm stools, and diarrhoea are all possible side effects.
Blood thinners like chia seeds can reduce blood pressure and cause bleeding.
Although chia seeds help to control blood sugar, they can interfere with several treatments and medications.
Rashes, hives, and watery eyes are all possible adverse reactions to chia seeds.
Because of their high protein content and good nutritional profile, chia seeds are a must-have for pregnant women. Before introducing them into your diet, we recommend speaking with your doctor to see whether they interact with any of your current drugs.
As always, one to two teaspoons of chia seeds each day will keep you healthy throughout your pregnancy.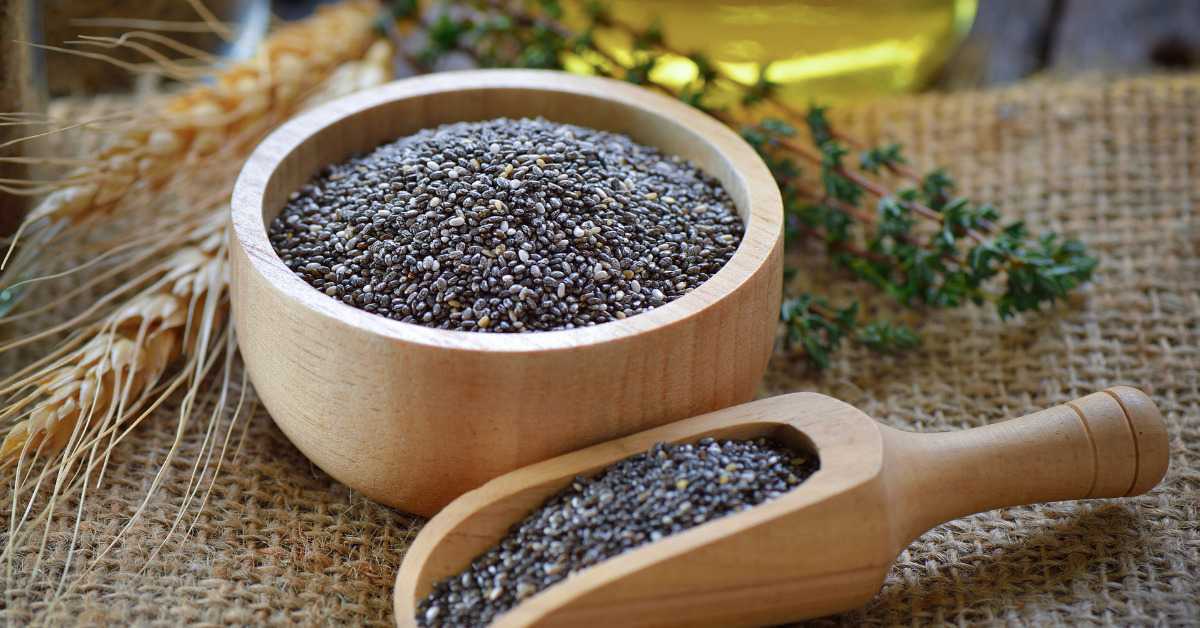 Contact the expert Gynecologists' of Marham to maintain your healthy pregnancy.
Also read: 12 Amazing Benefits of Tukh Malanga
Can't Find the App
| Android | IOS |
| --- | --- |
| | |
FAQ's
Can you eat chia seeds while pregnant?
Chia seeds are healthy, and they're also acceptable to eat when pregnant or breastfeeding. There are very few hazards, yet it is recommended that you consume no more than 1 ounce of seeds each day. A dietician or doctor should be consulted if you have any queries or concerns about chia seed usage.
Do chia seeds increase breast milk?
Chia Seeds are a superfood recommended for breastfeeding mothers. *Chia seeds are high in calcium, fibre, fatty acids, and other nutrients that can help you produce more breast milk naturally.
What is the side effect of chia seed?
Those with diabetes, high blood pressure, and allergies, for example, may have negative effects if they consume substantial amounts of chia seeds. Overeating chia seeds can cause digestive problems, and eating too many of them might contribute to weight gain.