Eid Mubarak everyone. All set with your knives and forks to dig into the mighty mutton raan or the hunter beef? Which of the two are you more eager to have. One thing that both promise is the finger-licking taste and festivity.
But you need to take more into consideration than just the taste. So here is the final face-off of mutton vs beef depending on all you need to consider before digging into the meat of your choice.
If you are a true meat lover you might not find yourself in the confusion to choose one over the other. You will probably have everything and anything served to you. But not all are the same.
Some are on the quest of finding the best meat either to maintain a healthy waistline, to keep their heart healthy or to get the juiciest cut from the best meat.
Also read: Cow Meat Benefits And Side Effects
With no India- Pakistan match and a national election this Eid, uncles will have nothing to fight over but the debate.
With uncles taking their respective sides and throwing all sorts of myths and facts to support their choice, you too will want the debate to finally end. So why not do it right here and declare a winner for the ever going mutton vs beef battle.
Difference Between Mutton And Beef?
Although it is highly unlikely that you don't know the difference between mutton and beef, with the meaty Eid just around the corner, taking no risk let me explain it again.
As used in the article, mutton is the meat obtained from the goats (bakra). The term mutton is often used to address lamb meat or meat from any cattle animal other than a cow, here it describes only goat meat.
Beef is the meat obtained from a cow or a buffalo. Both mutton and beef are considered red meats and are higher in fat content and calories than lean meats like chicken and fish.
Mutton Vs Beef: Which Is Better?
Well, not one factor can decide this. we will need to consider various factors before reaching a final conclusion.
Taste
Well, this one might be the most subjective. Some love the juiciness of a medium-rare beef steak and some love the saltiness of a mutton raan. Sorry to say but this one, you will have to decide on your own.
Beef ke paaye will never taste as good as mutton paaye, and mutton steak can never compete with the rib eye steak, so why choose between the two. Why not have the best of what each offers?
Usually, beef is easier to make and is accepted by many, as compared to mutton. The taste is less strong and the cook is relatively easier, making it the first choice of most. Mutton takes more precision and time to cook perfectly and often offers a strong taste that is not enjoyed by non-meat lovers.
To our dismay this factor has left us without a verdict, so we will have to consider more factors that have actual science to back them up.
Cholesterol
Cholesterol is one of the major concerns of the people that are on the quest of finding an answer to this debate. Unfortunately. mutton and beef both contain saturated fats and can raise your overall cholesterol.
But mutton has way less fat than beef. So in this regard, mutton beats beef by a huge margin. Mutton has a lower amount of saturated fat and total calories, posing less risk to your cholesterol and heart health.
Keep in mind that if you are very particular about your cholesterol, or have severe heart health problems you would want to stay away from all sorts of red meat and stick to lean meats like chicken and fish.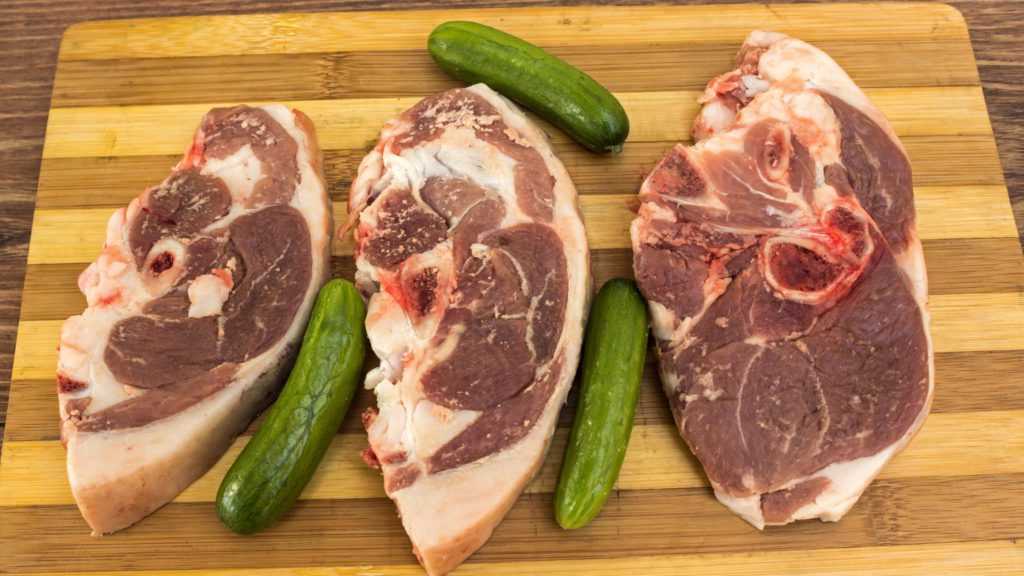 Health Benefits And Nutrition
Many call mutton (goat meat) the healthiest red meat, but some even go to the extent to call it even better than lean meats. But is there any truth to these claims?
According to the USDA Database, three ounces of goat meat has about 122 calories, 0.79 gramme of saturated fat, and 3.2 milligrammes of iron. In comparison, beef has 179 calories, three grammes of saturated fat, and 2.9 milligrammes of iron. This makes muttons a seemingly better choice than beef.
There is no denying that beef provides undeniable health benefits. It is rich in iron, vitamin B and zinc, but so is mutton. the nutrient content of mutton and beef mostly depends upon the part of the animal consumed. The organ meats have a different nutrient composition, fat-less pieces are different and the fatty and boney parts consist of different amounts of nutrients.
All in all, mutton can surpass beef in this aspect. Only the lack of saturated fat and fewer calories are enough to make mutton win against beef in terms of nutrition and health benefits.
Price
Only if amazing taste and good nutrition could come for free. Price is a major determining factor in the selection of a winner. Beef is way cheaper than mutton in Pakistan and all over the world. In Lahore mutton is at 900 rs per kg whereas beef is sold at half the price i.e. 450 rs per kg to be exact. This makes beef the preferable and only choice for many, especially those on a tight budget.
And The Winner Is…..
Talking in terms of good nutrition and health benefits, mutton wins by a margin. So, if you are seeking to gain some health this Eid, you should go for the raan instead of the rib eye steak.
Talking in terms of variety and taste. Beef is the preferred choice, as it offers more special cuts and special recipes. It is easier to cook and offers a somewhat acceptable taste to those not so fond of meat. Coming to the price, mutton doesn't stand a chance against beef, with the latter being sold at exactly half the price.
As a nutritionist, I would declare mutton the ultimate champ, ending the mutton vs beef debate for good, but depending upon what factors matter more to you, you can decide a winner for yourself.
FAQ's
1. Should heart patients eat beef?
Heart patients are recommended to eat all meats in limited quantities, it is better for them to stick to goat meat as it has less saturated fat.
2. Does mutton take longer to cook?
Mutton takes a longer time to cook as compared to beef.
3. Can mutton upset your stomach?
All red meats can upset your stomach if you are not used to eating too much of them. it is better to eat them in moderation.
4. Are mutton and goat meat the same?
Yes, but sometimes mutton is also used to refer to lamb meat. In Pakistan, the term is often used for goat meat only.
Book an appointment now to answer all your queries. You can book an appointment with top nutritionists in Pakistan through Marham by calling the Marham helpline: 0311-1222398 or by online appointment booking facility through the website or Marham mobile app.
Can't Find The App?
Android Users:
https://play.google.com/store/apps/details?id=controllers.marham.marhammed&hl=en
Drop a review for us at Playstore if you've had a good experience!

iPhone Users:
https://apps.apple.com/pk/app/marham-find-a-doctor/id1095243102
Stay Home. Stay Safe!