Do you know the two types of people that exist in the world? Yes, you got them right. Coffee lovers and tea lovers, who make coffee vs. tea, debatable.
Coffee connoisseurs cannot start the day without the scent permeating through the air. Whether they are latte drinkers or just old-fashioned automatic pot users, their devotion is strong.
Another category of tea drinkers is those who enjoy brewing tea in hot water. They may use loose tea leaves or tea bags, but the soothing effect they get is the same. Whether you choose tea or coffee, both offer many health benefits.
What are Coffee and Tea Made of?
The many forms of tea (green, black, and oolong) are all made from the same plant, but the nutrients and caffeine levels vary depending upon when the leaves are collected and how they are processed. To keep it simple, green tea is non-fermented, black tea is fermented, and oolong tea is semi-fermented. Matcha is the powdered and concentrated form of green tea. Seeds of coffee trees' fruits are used to make coffee beans. Coffee plants are native to Africa and flourish in tropical climates.
Both drinks are praised for their energizing and therapeutic properties. Let's address the question: which is healthier, coffee or tea? You can also consult a dietitian for better advice.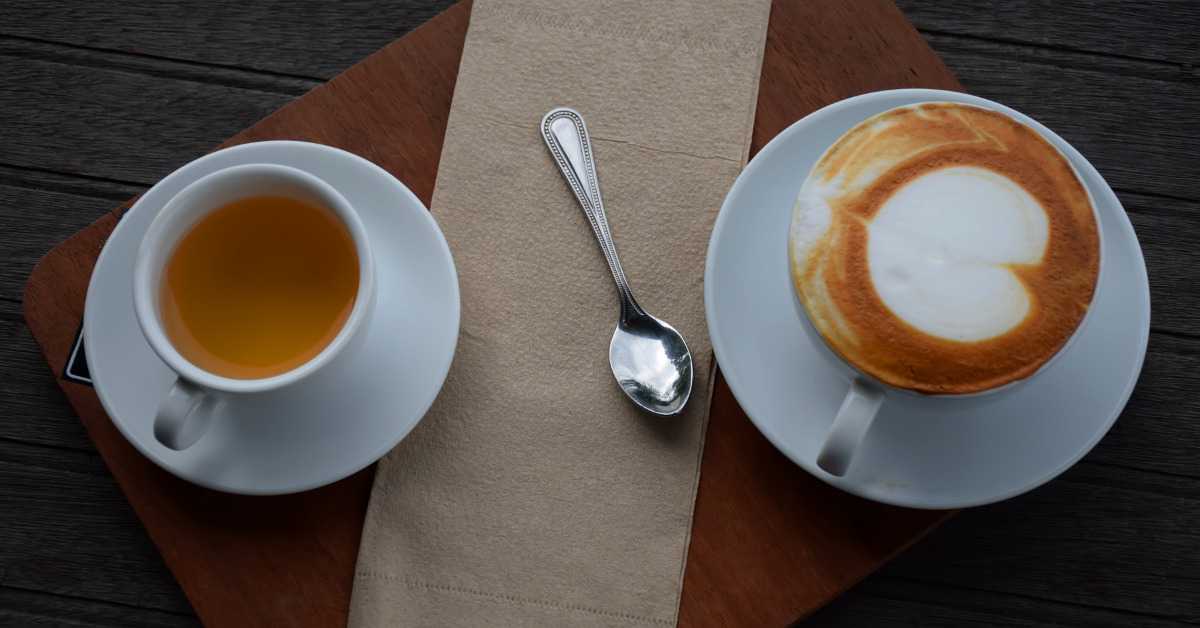 Nutrients in Coffee vs. Tea
Coffee is high in B vitamins (niacin, riboflavin, pantothenic acid, and folate), which aid in energy metabolism and neurological system function and help you feel better throughout the day. Magnesium, Choline, phosphorus, manganese, and potassium are minerals found in coffee that aid in hydration and neurological system regulation. Polyphenols, which are antioxidants present in plant-based meals, are also present in coffee that prevent illness. You should also read 8 amazing benefits of Coffee with milk.
Although black tea may not have as many B vitamins as coffee, it does have a small quantity of folate, which is similar to coffee. Potassium, magnesium, manganese, and theobromine are the minerals found in this tea. It also contains polyphenols such as theaflavins, flavonols, quercetin, and catechins. Besides this, read why should you make your tea black to learn some of the other benefits that it offers you.
Green tea has a similar nutritional profile as black tea, although the minerals and vitamins in green tea vary depending on when it is collected. Quercetin, flavonols, and catechins are among the polyphenols found in green tea. Green and black tea have identical total polyphenol content, although oxidation after processing can vary. You can also read what is the best time to drink Green tea for glowing skin?
Both tea and coffee contain trace levels of omega fatty acids, but still not enough to affect one's diet or overall health.
Caffeine in Coffee vs. Tea
The majority of the negative consequences of tea and coffee are caused by consuming too much caffeine. According to the European Food Safety Authority, taking 400 mg of caffeine is safe. But exceeding its amount causes you adverse side effects.
The amount of caffeine in a typical cup of coffee is:
8 ounces black coffee: 95 mg
1-ounce espresso: 64 mg
8-ounce instant coffee: 62 mg
8-ounces decaf coffee: 2 mg
The amount of caffeine in the typical cup of tea is:
8 ounces brewed black tea: 47 mg
8 ounces oolong tea: 38 mg
8 ounces green tea: 28 mg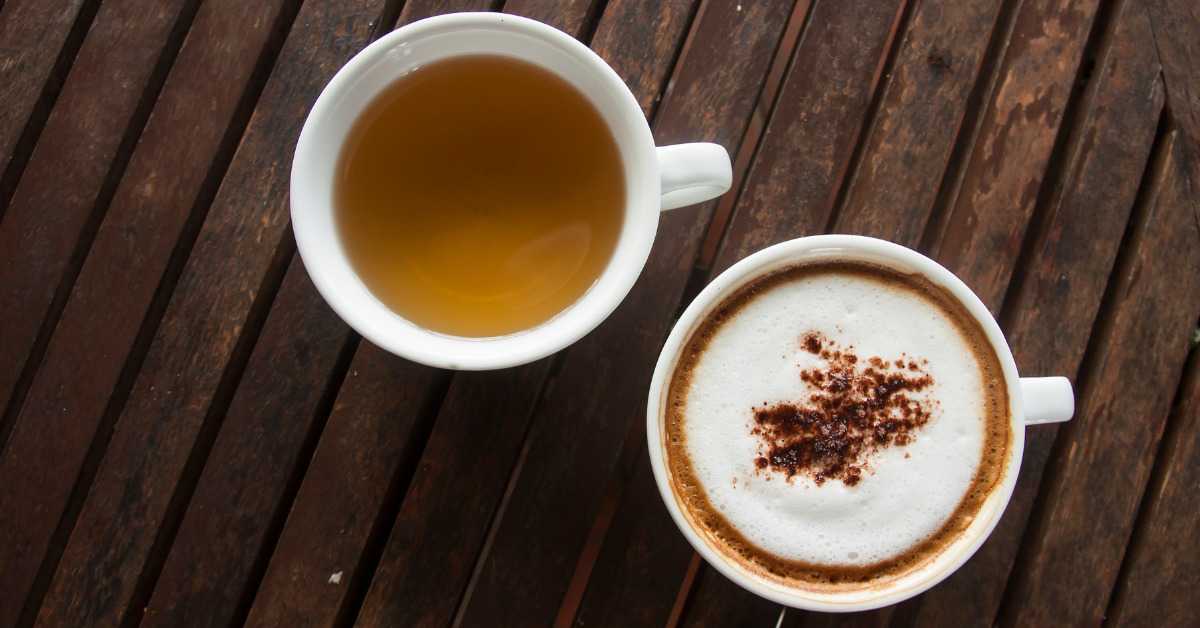 What is the Verdict?
More research is required before we can determine which drink is genuinely healthy for you. However, based on what we know thus far, coffee contains B vitamins and minerals, whereas tea has polyphenols. To put it another way, your ordinary cup of coffee is good for your metabolism and neurological system. Tea contains many antioxidants to help avoid diseases like diabetes, cancer, and heart disease. Some of these nutrients have not yet been examined as thoroughly as coffee's minerals and vitamins. To gain the health benefits of both beverages, you'll need a well-balanced diet, regardless of which drink you pick.
A word of caution: It's simple to consume too much caffeine with any beverage. Limit your daily coffee consumption to four tiny cups. Keep it to two to three cups each day if you use a French press or pour-over. Although it is much more difficult to overdose on caffeine with tea, limit yourself to four cups if you drink strong matcha. Whether you prefer coffee or tea, you can rest assured that you will not be disappointed. Both are higher in nutrients than the isolated caffeine found in energy drinks; thus, a cup of coffee is preferable to a Red Bull.
Both beverages are generally safe and healthy when consumed in moderation, so it may come down to your preference or how sensitive you are to caffeine. If you have any queries, book an appointment with the best nutritionists via Marham.pk.
FAQs
1- Which is better, tea or coffee, for weight loss?
Green tea has nearly no calories, so it can help you enhance your metabolism and improve your body's general fat-burning ability. On the other hand, coffee could make you feel full and speed up your metabolism, but not to the extent that it aids weight reduction.
2- Does coffee have any health benefits?
Yes, it does not only make you feel energized, burn your fat, and improve your physical performance, but also reduces your risk of many health conditions like cancer, type 2 diabetes, Alzheimer's, and Parkinson's disease.
3- Which is more harmful, milk tea or coffee?
Both tea and coffee have advantages and disadvantages. But, tea is a healthier alternative to coffee. However, this does not imply that you should drink 5-6 cups of coffee every day and drink no more than 2 cups of tea every day if you want to stay healthy.
Book an appointment now, to answer all your queries. You can book an appointment with the top nutritionists in Pakistan through Marham by calling at Marham helpline: 0311-1222398 or by online booking facility through the website or Marham mobile app.
Can't Find The App?
Android Users:
https://play.google.com/store/apps/details?id=controllers.marham.marhammed&hl=en
Drop a review for us at Playstore if you've had a good experience!
iPhone Users:
https://apps.apple.com/pk/app/marham-find-a-doctor/id1095243102
Stay Home. Stay Safe!