The most common type of pain in the world is a headache. It can be a sharp, throbbing pain or a constant headache. Everyone has had a headache at least once in their lifetime. There are many causes of a headache. According to studies, up to 75% of adults worldwide have had a headache in the previous year. Headaches are a leading cause of missing work and school. They may also have a negative impact on your social life. For some people, dealing with headaches regularly can lead to feelings of anxiety and depression.
Types of Headache
Different headaches have distinct symptoms. It is vital to know the type and causes of a headache to get proper treatment. There are over 150 different headaches, but the two main types are primary or secondary headaches. Primary headaches are not symptoms, yet they are the results of overactivity. Secondary headaches are the symptoms of an underlying condition.
Primary Headache
Following are the various types and causes of a headache:
1. Tension or Stress Headache
These are the most common types of headaches experienced by adults and adolescents. They cause mild to moderate pain and may appear and disappear over time. They usually do not have any other symptoms. The pain usually strikes in the middle of the day. Tension headaches can affect anyone, and they are frequently triggered due to stress. An over-the-counter (OTC) pain reliever may be all that is required to alleviate your symptoms.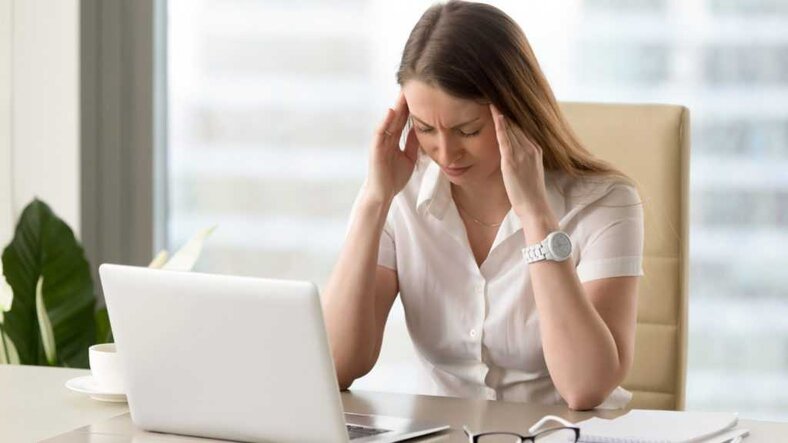 2. Cluster Headache
These are the most severe headaches. You may experience intense burning or piercing pain behind or around one of your eyes. It may be throbbing or continuous. The pain can be so excruciating that most people who suffer from cluster headaches cannot sit still and frequently pace during an attack. The eyelid droops, the eye reddens, the pupil shrinks, or the eye tears on the pain side. On the side, the nostril runs or stuffs up.
Cluster headaches are so-called because they tend to occur in groups. You may get them one to three times per day during a cluster period that can last two weeks to 3 months. Each headache attack lasts between 15 minutes to 3 hours. They can wake you up from a deep sleep. The headaches may go away entirely for months or years, only to reappear later. Males are more likely than females to get them.
3. Migraine
Migraines are the second most common type of primary headache after tension headaches. Migraines can cause the following symptoms:
Pain ranging from moderate to severe
Vomiting or nausea
Throbbing or pounding pain
Pain that lasts between four hours to three days
Light, noise, or odor sensitivity
Abdominal pain or upset stomach
4. Migraine with Aura
Visual disturbances can precede migraines in some cases. One in every five people will experience these symptoms before the onset of migraine headaches. It's called an aura, and it can cause you to see:
lights that flash
zigzag lines with shimmering lights
blind spots in stars
Auras can also cause tingling on one side of your face or in one arm, as well as difficulty speaking. There are some tips to prevent migraines as well. However, the symptoms of a stroke can also be mistaken for those of a migraine, so if any of these symptoms are new to you, seek immediate medical attention.
Secondary Headache
There are many causes of a headache. Following are the types and causes of secondary headaches:
1. Sinus Headache
Sinus headaches cause constant pain in the cheekbones, forehead, or bridge of the nose. They occur when the cavities in your head known as sinuses become inflamed. The pain is usually paired with other sinus symptoms such as a runny nose, ear fullness, fever, and a swollen face. Because a sinus infection causes an actual sinus headache, the gunk that is excreted from the nose will be green or yellow, in contrast to the clear discharge seen with cluster or migraine headaches.
2. Hypertension Headache
High blood pressure can cause a headache, and this type of headache indicates an emergency. This happens when your blood pressure rises to dangerously high levels. A hypertension headache typically affects both sides of your head and gets worse with activity. It frequently has a pulsating quality to it. Vision changes, numbness or tingling, nosebleeds, chest pain, or shortness of breath may also occur. If you feel that you are experiencing a hypertension headache, you must seek medical attention right away. You are more likely to get this type of headache in case you have hypertension.
3. Post-Traumatic Headache
Post-traumatic headaches can occur following any type of head injury. These headaches resemble migraines or tension headaches and can last for 6 to 12 months after your injury. They can develop into chronic conditions.
4. Exertion Headache
Exertion headaches occur quickly after intense physical activity. Exercising, running, and sexual activity are all common causes of exertion headaches. These activities are thought to increase blood flow to your skull, causing a throbbing headache on both sides of your head. This type of headache usually goes away within a few minutes to a few hours and should not last long. In some cases, it may be a sign of an underlying medication condition.
The Takeaway
Episodic headaches usually go away within two days. There are natural remedies you can use to lessen the severity of a headache. If your headache exceeds 48 hours or worsens, you should seek medical attention. Even if you can manage the pain with aspirin or ibuprofen, you should see your doctor find out what's wrong. Some headaches do require treatment beyond over-the-counter medications and home remedies.
Now that you know all the causes of a headache, the good news for headache sufferers is that there are numerous treatment options available. If your first treatment plan fails, don't give up. Your healthcare provider may suggest other treatments or strategies find the best solution for you. However, anyone who suffers from severe or recurring headaches should see a general physician or seek professional help.
FAQs
1. What are the non-medication remedies for headaches?
The common non-medication remedies are yoga, relaxation techniques, dimming the lights, taking a nap, and drinking water.
2. Do painkillers work for headaches?
Yes, over-the-counter painkillers such as paracetamol, aspirin, etc. are effective.
3. Can migraines be inherited?
Yes, migraines can be inherited. ALmost 60% of migraine sufferers have a genetic predisposition.
Book an appointment now to seek professional help from the best general physician in Pakistan. You can book an appointment with top doctors in Pakistan through Marham by calling the Marham helpline: 0311-1222398 or online booking facility through the website or Marham mobile app.
Can't Find The App?
Android Users:
https://play.google.com/store/apps/details?id=controllers.marham.marhammed&hl=en
Drop a review for us at Playstore if you've had a good experience!
iPhone Users:
https://apps.apple.com/pk/app/marham-find-a-doctor/id1095243102
Stay Home. Stay Safe!