We all are aware of the disease concerning kidney stones. Kidney stones are some hard particles that constitute salts and minerals present inside the kidney. So that if someone is feeling a problem like kidney stones, they may know about it and go to treatment for it. In this segment, we will discuss the types of kidney stones in Pakistan and other important related information regarding them. So let's start discussing its types, and then we will go towards other important details.
Types of Kidney Stones
These are the different types of kidney stones mentioned below, according to research. Discussing these types may help you identify their causes, and you may get an effective treatment to get rid of them.
Calcium Stones
Calcium stones are considered the most common type of kidney stone in Pakistan. These stones are present in the form of calcium oxalate. Oxalate is a kind of substance made by your liver daily, or maybe you take it from your food. Different chocolates and nuts have a high content in oxalates.
The amount of calcium oxalate in urine can be increased through metabolic disorders, high doses of vitamin D, and intestinal bypass surgery. Furthermore, calcium stones can also be produced in the form of calcium phosphate. These stones are common in metabolic conditions like renal tubular acidosis. It can also happen because of different medications such as medicines to treat seizures and migraines.
You can now book an appointment or consult online with the Best Nephrologists at Agha Khan Hospital in Pakistan.
Struvite Stones
These stones are produced when there is an infection in the urinary tract. Such stones can grow very fast and become too large that it becomes painful later on. Their symptoms may vary according to the severity and size of rocks. This type of kidney stone may become painful while urinating. 
Uric Acid Stones
Uric acid stones are produced when a person suffers from chronic diarrhea or malabsorption of fluids. People who have metabolic or diabetes syndrome or eat lots of protein diets may have uric acid stones. People who have genetic tendencies may face the problem of uric acid.
Cystine Stones
People who have a cystinuria disorder, a hereditary disease, get cystine stones as their body starts making a specific amino acid in excessive amounts. We would suggest you save your kidney stone if it passes through your urine so that your doctor may quickly identify the type of stone.
Symptoms of Kidney Stones
Until or unless kidney stones are inside your kidney, they will not cause symptoms. But once it moves towards the ureters (tubes that help connect the kidney with the bladder), it may prevent the urine flow. As a result of this, the kidney will swell, and the ureter will have spasms. These scenarios are too painful for the human body. And because of this problem, you may have the following signs and symptoms.
Severe pain in the back and both sides of the body below the ribs

Waves of pain in the groin and lower abdomen

The pain comes in the form of waves with too high intensity

Burning sensation while passing urine.

Red, pink, and brown urine

Foul-smelling or cloudy urine

Consistent need to urinate

Urinating in small amounts in repetitive patterns

Chills and fevers if the infection takes place
The pain because of the kidney can change its intensity and location with time because the stone may move from the kidney to the urinary tract. To read more about the signs and symptoms of kidney stones, click here.
Causes
Well, talking about its causes would reveal that there are no specific causes for its occurrence. It might happen because of several unknown reasons. However, the most common causes for kidney stones are;
Eating substances high in oxalates

Less intake of water

Genetic tendencies to have kidney stones

Diabetes mellitus

Obesity

Genetic bypass surgery

Excessive dieting

Intake of excessive medicines and supplements

Some urinary infections
The Need to See a Doctor
Now, let's discuss the warning signs of kidney stones when you need to make an appointment with your doctor;
Severe pain which is not bearable

Pain followed by vomiting and nausea

Difficulty in passing urine

Regular feeling chills and fever

Blood in the urine
If you are facing these signs, then we would suggest you immediately see a doctor. The doctor would give you medical advice according to the type of kidney stone and symptoms.
Medical Treatment for Kidney Stones
Following medical treatments can be done for kidney stones;
Narcotic medications and Antibiotics

Lithotripsy

Tunnel surgery

Ureteroscopy
Your doctor will design your medical treatment plan according to the type of kidney stone you are having.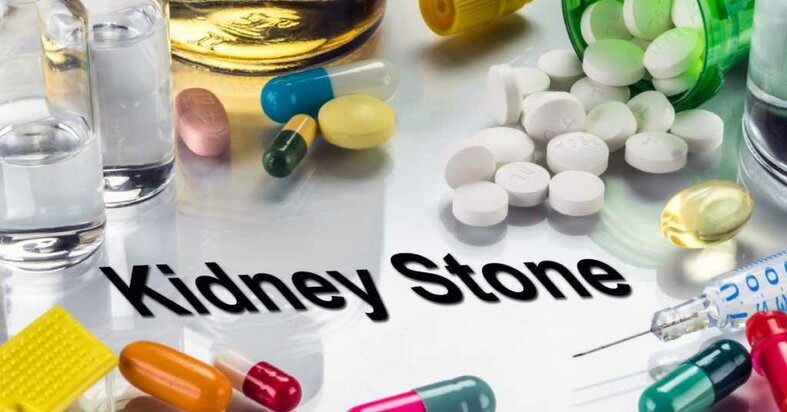 Healthy Tips to Avoid Kidney Stones
We will give you some healthy tips to avoid kidney stones so that you may not feel this problem inside your body.
Try to drink plenty of water. Do not keep your body dehydrated for an extended period. Plus, drink water full of minerals and nutrients.

If you have been facing a problem with kidney stones, then try to avoid eating too many green vegetables and substances high in oxalates, such as tomatoes.

Do not take unnecessary medicines. Take medicines only after the doctor's prescription.

Basil juice, Lemon juice, Apple cider vinegar, and Celery juice contain beneficial nutrients in preventing and treating kidney stones.
Ending Notes
This was all about the types of kidney stones in Pakistan and how you can identify them. We hope that you will follow our healthy tips to prevent kidney stones. Wish you good health.
FAQs
1. What type of kidney stones are there?
Kidney stones of four types are uric acid, calcium oxalate, struvite, and cystine.
2. What type of magnesium is suitable for kidney stones?
Magnesium citrate is good for kidney stones because it helps in reducing kidney stones inside the kidney.
3. What is the best supplement for kidney stones?
Doctors recommend plenty of water to drink and take potassium citrate as a dietary supplement. Moreover, they ask you to avoid almonds, okra, spinach, and rhubarb.
4. How can I permanently get rid of kidney stones?
For getting rid of kidney stones, you have to stay hydrated all the time. Moreover, celery juice and pomegranate juice are also beneficial.
Book an appointment now, to answer all your queries. You can book an appointment with the top nephrologists in Pakistan through Marham by calling at Marham helpline: 0311-1222398 or by online booking facility through the website or Marham mobile app.
Can't Find The App?
Android Users:
https://play.google.com/store/apps/details?id=controllers.marham.marhammed&hl=en
Drop a review for us at Playstore if you've had a good experience!
iPhone Users:
https://apps.apple.com/pk/app/marham-find-a-doctor/id1095243102
Stay Home. Stay Safe!