Don't we all agree that daar cheeni has always been the underrated ingredient as compared to the benefits it brings to our health? Cinnamon is that one spice we've disliked since forever and we don't even know why. As we grow up, we understand things better and exactly like that, we have understood why cinnamon has said to be beneficial for health.
Cinnamon/ daar cheeni is an ingredient that is extracted from the trees of the Cinnamomum family, originated in the Caribbean, South America, and Southeast Asia.
There are multiple benefits of daar cheeni and it can be used in various recipes in different ways. Moreover, it can also be used for scents with candles and essential oils.
Check out Top 5 Sana Makki Benefits You Must Know
Are you interested to know about cinnamon home remedies? We have some for you in this article!!
Know The Types Of Cinnamon
There are two types of cinnamon.
Darker-Coloured Cassia:
The dark-coloured cinnamon is the one that is most commonly sold in the US and is grown in southeastern Asia.
Ceylon Cinnamon:
This type of cinnamon is also called true cinnamon and is commonly used in countries other than the US.
Be it Cassia or Ceylon cinnamon, both are easy to use and have the same health benefits.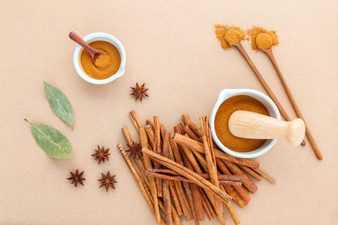 Daar Cheeni Benefits
1. Daar Cheeni Works As A Treatment For Type 2 Diabetes
One f the most promising research on cinnamon health benefits connects to Type 2 diabetes. Cinnamon can be used in various ways as a remedy and treatment that helps control diabetes. Moreover, it also helps to manage various other diseases that are linked to diabetes.
2. It Also Helps To Manage Multiple Metabolic Diseases
As it is said that daar cheeni is beneficial for diabetes, it is an understood fact it would also be helpful for metabolic diseases.
Cinnamon reduces complications related to:
Morbidity
Metabolic Syndrome Mortality
Reduces Blood Pressure
Obesity
Dyslipidemia.
Moreover, daar cheeni is also used as an appetite suppressant for people sugar addiction, as it has a naturally sweet taste.
No matter how beneficial it is, you should still consult your Diabetologist before consuming it in any form.
Also read: 7 Amazing Benefits Of Tukh Malanga (تخم ملنگاں)
3. Daar Cheeni Fights Bad Cholestrol
Even if a person is not diabetic, cinnamon should be a part of your daily routine just to prevent all those factors that lead to diabetes or metabolic syndrome.
Daar Cheeni can:
Improve Serum Glucose
Lowers Fasting Blood Glucose
Reduces Triglycerides and Cholesterol.
4. Cinnamon Contains Antimicrobial Properties
Daar cheeni has proven to be a great ingredient to fight fungal, bacterial, and viral elements in foods.
Not only this but cinnamon can also treat anything from common cold, cough and even lung problems. Scroll down to find out cinnamon remedies for cough and cold.
Also read: 7 Unbelievable Saunf Benefits That Will Blow Your Mind
5. Daar Cheeni Also Works As A Throat Soother
Suffering from dry throat and cough? Calm your irritating cough with some daar cheeni in warm water. Cinnamon is a great soothing ingredient that gives you instant relief from cough and dry throat.
To make cinnamon tea, find the recipe at the end of this article.
Cinnamon has great anti-bacterial and warming properties that:
Increase Blood Flow
Improves Blood Oxygen Levels
Fight Illness and Infections
Treat Phlegm Coughs.
6. Cinnamon Also Proved To Be A Great Weight Loss Remedy

Are you trying to drop some pounds? Well, daar cheeni can be the easiest remedy you can try!. Have a pinch of daar cheeni powder on an empty stomach in the morning, make it your daily routine and you will start shedding those stubborn pounds.
Read More About Weight Loss: Surprisingly Simple Weight Loss Tips That Will Help You A Bundle
7. Daar Cheeni Prevents Cancer
According to research done at the University of Texas, cinnamon helps to reduce the inflammation and fabrication of cancer cells. It has shown promising results in combating cancer and daar cheeni can be the future of cancer treatments.
The two ingredients present in cinnamon, known as cinnamaldehyde and eugenol, fights human colon cancer cells and human hepatoma cells and promote regeneration of healthy tissue.
7 Best Cinnamon Home Remedies
1. Cinnamon Honey Acne Mask
Mix 2 tablespoon of honey with 1 tablespoon cinnamon powder
use a cotton ball or a cotton bud to apply specifically to your pimples of the whole face
leave it for 30 minutes and wash it off with lukewarm water
2. Cinnamon Tea For Cold And Flu
Add 1 tablespoon of cinnamon powder
2 tablespoons of honey in a cup
Boil water until it is fully dissolved
Keep it with you throughout the day to soothe your throat
3. Daar Cheeni Benefits For Upset Stomach
Mix 3 teaspoons of Daar cheeni powder with 1 cup of water and consume it twice a day.
4. Use Cinnamon As A Hair Fall Rescue
Prepare a mixture by adding 1 teaspoon of Daar cheeni powder and 2 teaspoons of honey to 100 ml of warm olive oil.
Store this mixture in a bottle after the daar cheeni powder mixes evenly in the oil.
Apply this oil thus prepared on the scalp and keep it for 15 to 30 minutes before washing it off.
5. It Can Also Be Used To Cure Bad breath
To reduce bad breath, rinse (wash) your mouth with a solution of 1 cup water mixed with 1 teaspoon of Daar cheeni powder.
6. Improve Dull Complexion Using Daar Cheeni
To lighten skin complexion, take 1 teaspoon of honey, mix it thoroughly with a pinch of Daar cheeni powder
Apply it to the skin and leave it for a while till it dries.
7. It Can Help Get Rid Of The Headaches
To reduce headache, take 1 teaspoon of water and add 1 teaspoon of Daar cheeni in it.
Apply this on the forehead and massage gently for a while
Check out 10 Health Benefits Of Ispaghol Chilka 
Want To Know More About Cinnamon Benefits? Talk To A Doctor Through Marham.pk
Cinnamon has uncountable health benefits but, it works differently for every person. You might be the one benefitting from it but there are many out there who do not find it useful. To know the best possible daar cheeni benefits for yourself, consult your doctor now!