Cashew or Kaju is a popular ingredient in many Pakistani dishes, particularly as a base for dishes. It was recently used to produce dairy alternatives such as cashew milk and cream. Kajus are the kidney-shaped seed that grows on the Anacardium occidentale tree. This evergreen tree bears an apple-like tree and a nut that hangs beneath the fruit. These kajus are native to Brazil and were introduced to Africa and India by colonists. It is available all year, and if stored properly, these nuts have a long shelf life. Although cashew nuts are not technically nuts, they are seeds. Kajus has a rich, nutty flavor similar to that of almonds or peanuts. When pureed, cashew butter may be challenging to distinguish from other nut butter, such as peanut butter. Cashews can be eaten raw, roasted, or salted. Here in this article, we will let you know about amazing Kaju benefits.

Kaju Nutritional Values
Before going towards its Kaju benefits, let's discuss its nutritional values. The cashew nut is the most nutritious nuts available. However, due to its high calorie content, it should not be consumed on a daily basis. That is why cashew nuts are a no-no for diet-conscious people. Cashews are high in – in addition to calories.
Essential fatty acids
Vitamin E
Minerals – calcium, potassium, magnesium, zinc, copper, and folate
Proteins and carbs
Vitamin K
Antioxidants
Fibers
Benefits of Kaju
Now come to the main point. What are the benefits of Kaju? Let's see them in detail.
1. Help lower blood pressure
Nuts are high in nutrients, including healthy fats, proteins, essential vitamins, and minerals. It is a healthy addition to your diet when consumed in moderation. Kajus are high in unsaturated fats and minerals such as magnesium, potassium, and L-arginine. It lowers blood pressure significantly by dilation of the blood vessels.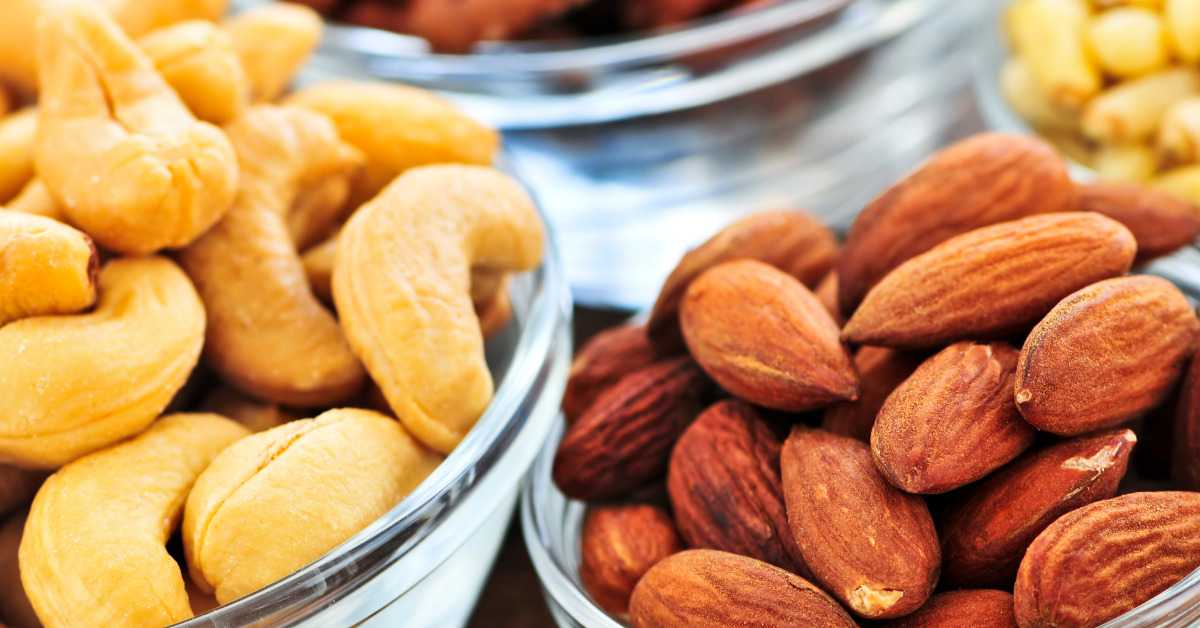 2. Prevent the Cardiovascular Diseases
Unlike other myths, Kaju is beneficial to our heart health. Kajus are high in essential fatty acids, potassium, and antioxidants that are good for your heart. It contains components promoting heart health and strengthening blood vessels. Cashew nuts aid in reducing bad cholesterol (LDL) and the increase of good cholesterol (HDL) in the body. It gives anti-inflammatory properties, which help reduce internal inflammation, increasing the risk of developing heart disease.
3. Prevent Diabetes
Kaju can help people with type 2 diabetes control their blood sugar levels by adding them to their diet. It's high in fiber, a nutrient that helps prevent blood sugar spikes. However, due to the high-calorie content, it is recommended that only 3-4 cashews be consumed per day.
4. Immunity Booster
Kajus are high in zinc and vitamins, both of which are beneficial to your health. Zinc is an immune-boosting mineral that is required for essential cell functions. Regular zinc consumption may provide you with the necessary zinc and vitamins, improving your immunity.
5. Help in Bone strengthening
We need a lot of minerals for healthy bones, and cashew nuts have them all. Kajus are high in copper and calcium, which help to strengthen our bones. Copper aids in the flexibility of your joints by synthesizing collagen. To know about its adequate amount, we would suggest you to consult a dietician.

6. Easy to Add in Diet
Kajus are straightforward to incorporate into your diet, and they can be eaten "raw" or roasted, making a convenient portable snack. Whole or ground cashews can also be used in a variety of dishes, including scrambled tofu and stir-fries, as well as soups, salads, and stews. Kaju butter is yet another way to incorporate cashews into your diet, and it can be spread on toast or mixed into yogurt or oatmeal. You can also combine cashew butter, oats, and your favorite dried fruit in a food processor to make homemade, no-bake energy balls.
7. Helps to Boost Brain Functions
The brain in our bodies requires a steady supply of fatty acids from our diet to function correctly. Kajus contain brain-boosting nutrients that may aid in brain function and memory retention. Eat overnight soaked cashews to improve brain function.
8. Beneficial for Hair and Eye Health
Kaju contains copper, which aids in the production of hair pigment-melanin, which improves hair color. The essential fatty acids that may keep your hair looking healthy and shiny. Kajus contain the antioxidants zeaxanthin and lutein, which protect against UV rays. Antioxidant pigments are found naturally in the eyes and serve as an essential defense against harmful light. They may also reduce the risk of developing age-related macular degeneration (AMD) and cataracts.
9. May increase Male Fertility
Kajus are high in zinc, necessary for male sperm count and fertility. In addition, regular cashew consumption may aid in controlling weight and diabetes, both of which significantly increase male fertility. For more information about its intake for male fertility, please contact some best dieticians in your town.

10. Good for Health
Kajus are eaten as a snack and are also included in nut mixes. Kajus are high in calories, proteins, and fibers, which keep you fuller for longer and reduce cravings. However, because nuts are high in calories, they must be consumed in moderation. Kaju contains natural oil high in antioxidants, selenium, zinc, iron, and iron. It keeps your skin looking young and healthy. Copper boosts elastin and collagen production. Collagen is a structural protein that is responsible for your skin's elasticity.
11. Contain Beneficial Plant Compounds
Kaju, like other nuts and seeds, is considered an antioxidant powerhouse. Antioxidants are plant compounds that keep your body healthy by neutralizing damage-causing molecules known as free radicals. As a result, inflammation is reduced, and your body's ability to stay healthy and disease-free is enhanced. Cashews are high in polyphenols and carotenoids, two antioxidants found in other tree nuts. Antioxidants found in nuts such as walnuts, pecans, and almonds have been linked to lower levels of oxidative cell damage in studies.
Kaju Drawbacks
Every good thing has a dark side too. Therefore Kaju will indeed have some drawbacks too. Let's discuss them;
Kajus are generally regarded as a healthy addition to most people's diets. However, remember that roasted or salted cashews may contain any added oils or salt. As a result, unsalted dry-roasted or "raw" (unroasted) varieties may be preferable.
According to some studies, roasted cashews may have higher antioxidants than unroasted cashews. Consider roasting unroasted cashews at home without any additional oils. Spread your unroasted cashews in a single layer on a baking sheet. Then, dry roast them for 8–15 minutes on the middle rack of your oven at 350°F (188°C).
To avoid burning, stir the cashews at 3–5 minute intervals. Alternatively, toss your cashews in a skillet over medium heat for 3–5 minutes or until slightly brown. Furthermore, cashews contain phytates, making it difficult for your body to absorb the vitamins and minerals. Soaking nuts overnight before using them will help reduce their phytate content and improve their digestibility.
Kajus is a type of tree nut. As a result, people who are allergic to tree nuts, such as almonds, Brazil nuts, pecans, pistachios, walnuts, or hazelnuts, are more likely to be allergic to cashews.

The Bottom Line
Kajus are high in fiber, protein, and healthy fats. They also contain various vitamins, minerals, and beneficial plant compounds that are beneficial to one's health. Kaju, like nuts, may aid in weight loss, blood sugar control, and heart health. On the other hand, Kaju has received less research than other nuts. As a result, more cashew-specific research is required to confirm these benefits. There aren't many drawbacks to eating more cashews. Choose unsalted dry-roasted or unroasted varieties whenever possible. For more help, you may contact a dietician.
Book an appointment now to answer all your queries. You can book an appointment with the top nutritionists in Pakistan through Marham by calling the Marham helpline: 0311-1222398 or by online booking facility through the website or Marham mobile app.
Can't Find The App?
Android Users:
https://play.google.com/store/apps/details?id=controllers.marham.marhammed&hl=en
Drop a review for us at Playstore if you've had a good experience!
iPhone Users:
https://apps.apple.com/pk/app/marham-find-a-doctor/id1095243102
Stay Home. Stay Safe!
FAQ's
Does Kaju cause weight gain?
The fats found in nuts are mostly "good" fats. So we should eat them, and they will not cause us to gain weight if consumed in moderation.
How many cashews can I consume in a day?
Limit yourself to one ounce (28.35 grams) of medium cashews per day to reap the health benefits. A single cashew serving contains about 18 nuts.
What are the drawbacks of Kaju?
In some people, cashew nuts can cause bloating, constipation, weight gain, and joint swelling. However, these side effects are uncommon. When used on the skin, if you use unroasted cashews, you may experience skin irritation, redness, and blisters.
Is it hot or cold when you drink Kaju?
However, in the summer, it is best to limit your intake of almonds, cashews, walnuts, and raisins. They generate a lot of heat in the body, and it can get to a point where you can't handle it.
Can I eat cashews while on a diet?
Cashews are high in protein, which is essential for weight loss. While nuts are high in calories, eating the right amount of them daily can help you lose weight.